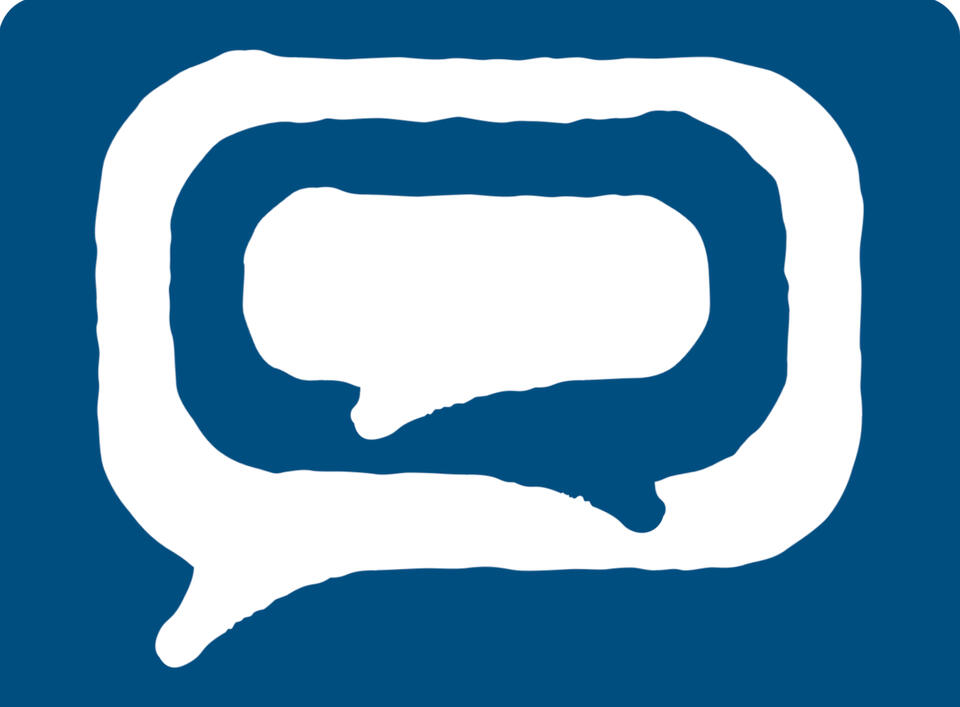 State-of-the-Art Data Annotation
langlabel 🗂️
Automatically label your language data using the latest large language models (LLMs). No coding required.
What is Langlabel?
Example 🏗️
Let's say we have a data set of sentences in a .csv file and would like to label sentences that mentions a person by name. Just give your data and instructions to langlabel (as shown below) and almost instantly get your labels 🚀.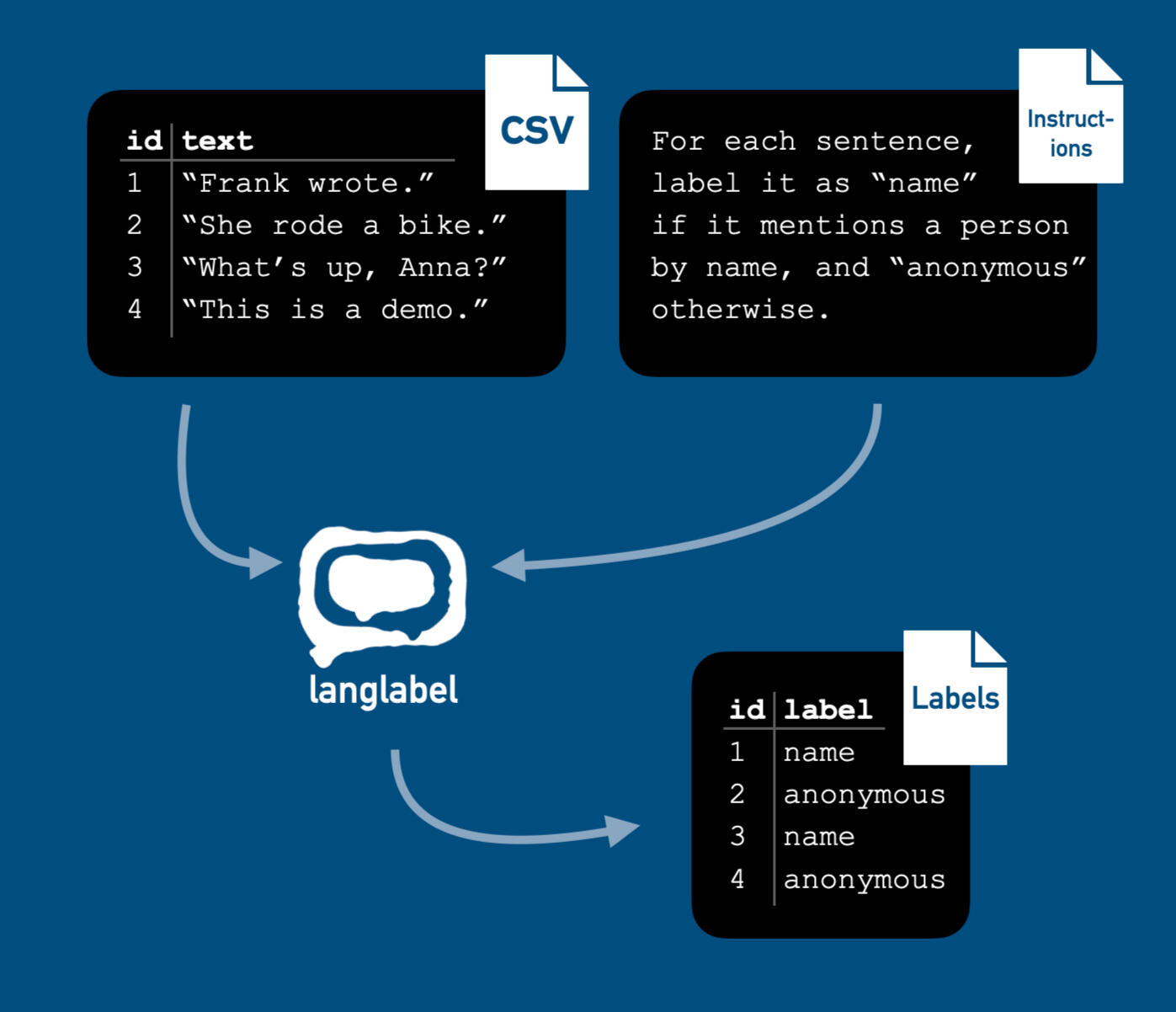 The langlabel tool can be used to create whatever labels you would like. Leveraging in-context learning, we can instantly adapt our models to your labels.
Why Langlabel?
Faster, cheaper, easier labelling 🗃️
No more hiring human labellers and creating custom machine learning models – just upload your data as a .csv file together with instructions and get automatically generated labels. Without any additional human input. And no coding required.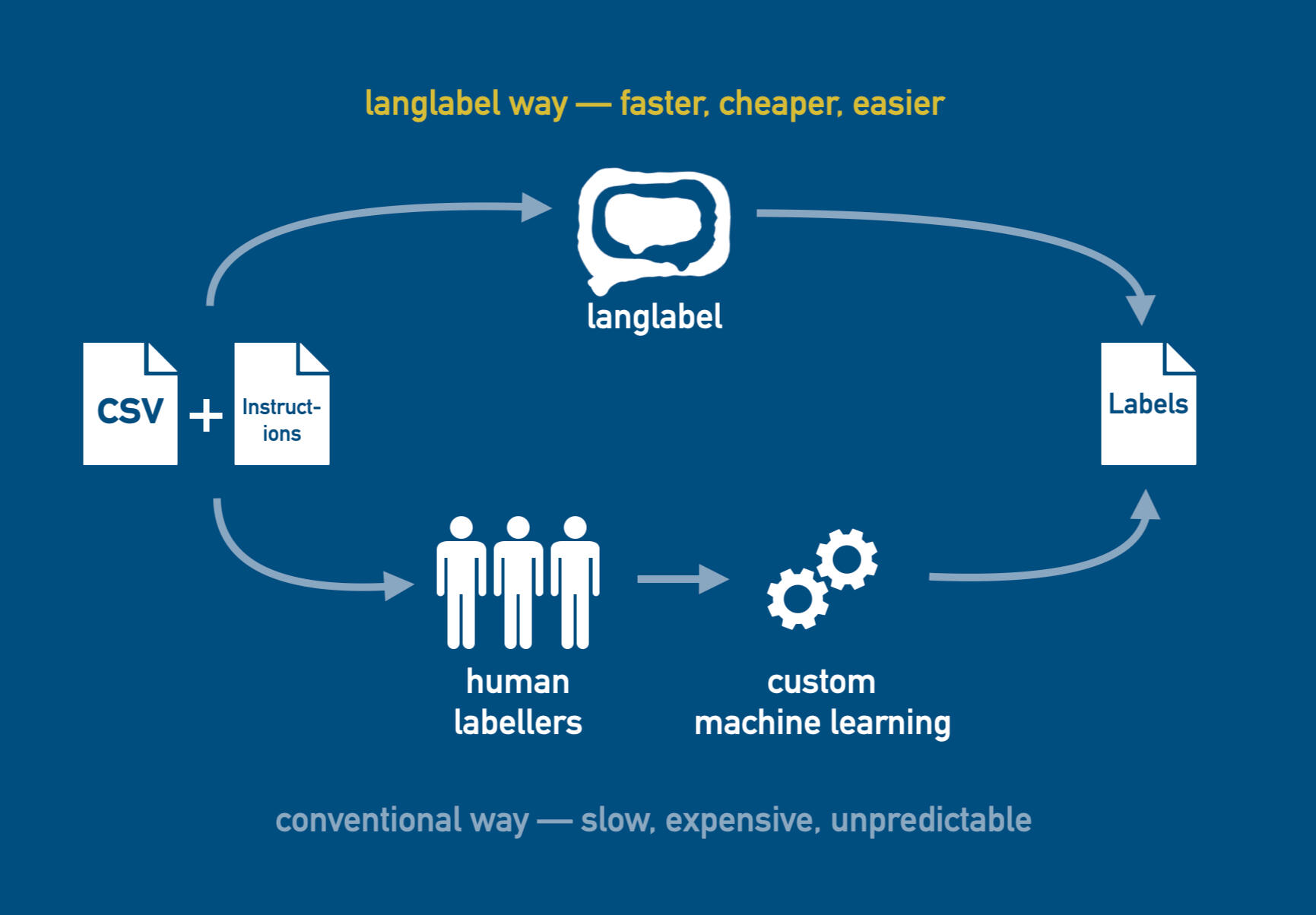 State-of-the-art
Approaching 🤖
human performance
Leveraging the latest large lanuage models (LLMs), langlabel can provide performance competitive with human labellers for many tasks.Before paying for labels, use our accurate performance estimator to realistically evaluate the quality of our labels for your task.

Predictable cost
Pricing:
pay-as-you-go 🥾
Pay by the number of words labelled. Predictable and fair.
---
langlabel Standard
$0.10 / 1k words 🚗
Our cheaper but still reliable option for many tasks. Based on OpenAI's gpt-3.5-turbo model.
---
langlabel Premium
$1.00 / 1k words 🏎️
Our state-of-the-art labelling product. Based on OpenAI's gpt-4 model.
Any further questions? 🤔
Reach out to our team via the button. We aim to answer your question as fast as possible!
---
Sign-up ✏️
Join the waiting list for langlabel to be notified when we have capacity for your task. We will be excited to support your project!
Thank you!
You have been added to the waiting list for langlabel and will soon receive an email to confirm.